Hollywood's Hidden Latino Figures

Sponsored by McDonald's Spotlight Dorado 
Once upon a time in Hollywood, Latinos changed their names, hair color, and even physical features to secure movie roles.
Tinseltown's attempt to make actors look and sound "less ethnic" for "mainstream audiences" was a common practice so prevalent that it applied to many other actors from diverse backgrounds.  
Even some of the proudest Latinos in Hollywood agreed to these cultural tweaks to their identity, forever disguising their connection to their true roots even as many went on to become silver screen legends.  
Among the many Hidden Latinos of Hollywood Fame, four stand out for the way their real heritage surprises other Latinos today, and all of them are legendary.  
Rita Hayworth
Margarita Carmen Cansino. Does that name ring a bell? How about Rita Hayworth? Everyone knows Rita — the beautiful strawberry-blond actress — who Madonna forever immortalized in her song "Vogue." "The Love Goddess" of the 1940s — who caught the eye of Agha Khan as she danced in a tight, strapless black gown in the movie Gilda. The pin-up model was the second most popular pin-up model of World War II (only behind Betty Grable).  
Even today, few know that Margarita was Hispanic. 
Margarita's father was from Spain, born in a small town close to Seville; her mother, Volga Hayworth, was of Irish/American descent. Rita's famous flaming red hair was not red – it was jet black. She dyed it red and even altered her hairline because she worried about being typecast in 'Hispanic' roles.
Rita encountered the same issues that most other Latina actresses of her time and others from today still do. She adopted her mother's name to emphasize her Irish-American ancestry so she would be seen as classically "American."
Anthony Quinn
Another example of a great hidden Latino actor was Anthony Quinn, born Manuel Antonio Rodolfo Quinn Oaxaca in Chihuahua, Mexico. The son of fighters in the Mexican Revolution, he was virtually conceived on the battlefield.  
Quinn would go on to win two Academy Awards — his first was for playing Eufemio Zapata in the film Viva Zapata! — and had such earthy and chameleon-like looks that he was cast in everything from Greek to Chinese to Hawaiian and Indigenous roles.
Quinn was a powerful actor (and a painter and writer) who played his roles with a passion that could only come from being Latino. Yet, even the man who embodied Zorba the Greek, and was supremely proud of being Mexican, at one point, changed his name to be accepted in Hollywood.
Raquel Welch 
Our next hidden Latina actress was considered the third most beautiful star of her heyday in the 60s and 70s. Known for her films "Fantastic Voyage," "One Million Years B.C.," "Kansas City Bomber," and "The Four Musketeers," few are aware that Raquel Welch is Bolivian-American. 
Forty years into her career in show business, Welch finally claimed her heritage when she played Aunt Dora on "American Family," a PBS television series about a Mexican-American family in East Los Angeles. 
Born Jo Raquel Tejada, Welch said she regrets whitewashing her culture to become famous. "Latinos are here to stay. As citizen Raquel, I'm proud to be Latina," she said during a speech at the National Press Club when the show was at its most popular.
Lynda Carter 
The fourth and final star on our list of hidden Latinos of Hollywood is a singer and former beauty pageant winner that's best known for playing a superhero. Of course, we're talking about none other than Wonder Woman — the first female superhero to hit the big screen — who was played with bravado by Lynda Jean Cordova Carter, or Lynda Carter, as you probably know her.
Carter's mother, Juana Córdova, and grandmother were both from Chihuahua, Mexico. Carter herself said: "And who says Wonder Woman is "white"? I'm half-Mexican." Yes, the Wonder Woman of the 1970s, the heroine of so many young girls, was a Latina. But doesn't it stand to reason? 
In 2018, the former Miss World USA and actress/singer Lynda Carter became the 15th Latina to receive a prestigious star on the Hollywood Walk of Fame. 
The Latino stars of yesterday and today brought their talent and passion to the big screen in every way they knew. Sometimes it led them to make painful or controversial decisions to soften or outright hide their heritage. Still, in the case of these four Hidden Latino Figures of Hollywood and others, most returned to their roots and today continue as examples that all Latinos can be proud of. For this, and much more, we salute them. 
McDonald's Spotlight Dorado is a multi-year platform aimed at empowering and amplifying Latino voices across different industries, starting with film. They aim to support aspiring filmmakers and screenwriters in the Latino community with the tools and resources they need to bring their stories to life.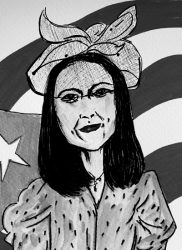 Susanne Ramirez de Arellano is a writer and cultural critic who used to be a journalist, television producer, and news director. She lives between San Juan and New York and is, at present, making her first attempt at writing a novel.