This East L.A. High School is Famous for its World Renown Math Teacher
Your Content Goes Here
One of history's most famous teachers once taught the world a universal lesson about grit, resilience and hope from East L.A.'s James A. Garfield High School.  His name was Jaime Escalante, and his story, captured in the poignant 1988 film "Stand and Deliver" continues to inspire educators and students alike today.
Escalante's fame came in an unwanted way in 1982, when 18 of his students took an advanced placement calculus exam and passed.  Fourteen of the students, most of them Mexican-American, were suspected of cheating because they were from low income neighborhoods.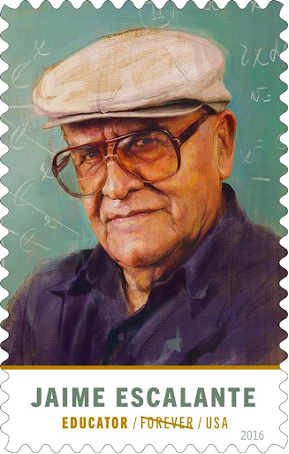 When the students retook the test, and passed, Escalante's story became headline news – and the stuff a great movie would be made of.
Escalante, of Bolivian descent, was awarded the Presidential Medal for Excellence in Education, by President Ronald Reagan and in 1999, he was inducted into the National Teachers Hall of Fame for his efforts to "have children believe in their ability to achieve."
Escalante died in 2010 but not before propelling hundreds of students to mathematical greatness in a teaching career that spanned 36 years, including 12 years in his native Bolivia.  In 2016, the United States Postal Service issued a commemorative stamp in his likeness.
FUN FACTS:
James A. Garfield High School is also the alma mater of Mexican-American Olympic medalist Oscar de la Hoya and Honduran-American comedian, actor, writer Carlos Mencia.
Although "Stand and Deliver" is set at Garfield High School, most of the scenes were filmed at Roosevelt High School in Boyle Heights, Los Angeles.
The movie was selected by the Library of Congress for preservation in the National Film Registry in December 2011 as being "culturally, historically or aesthetically significant".
Actor Edward James Olmos, who played Escalante on the film, received his only Oscar nomination for his role.
In 2016, the U.S. Postal Service issued a Jaime Escalante Forever Stamp, a rare and tremendous honor.
Andy Garcia was originally cast as one of the students in Jaime Escalante's class, but later convinced the director to give him the role of Dr. Ramirez. This was revealed by Garcia himself in a 1988 interview when the movie was released.
Location: East LA, California
Address: 5101 E 6th St, East Los Angeles, CA 90022
Google 360-View: Link
IF YOU GO: Visitors are only allowed into the school with prior permission.
By Manuela Aranguren