Your Content Goes Here
Credit: nps.gov
Colonel Henry Clay Hooker, a native New Englander, was the first to establish a permanent cattle ranch in the Arizona Territory in 1872 on the ruins of an earlier Spanish colonial estate. He migrated to the West after the Mexican-American and Civil wars. 
Read more: Two Chicanas Led 'The Strike of the Century' 52 Years Ago and Forever Changed History
Colonization every step of the way
After the Mexican-American War, Arizona became a United States possession in 1848. However, U.S. civilian immigration to the new territory was slow at first.
The American Indian nations were very powerful and did not allow themselves to be repressed during the Spanish Colonial and Mexican Republic eras. However, the United States ordered soldiers to invade Arizona and New Mexico to begin colonizing the Southwest, where a series of American Indian wars were fought that lasted into the 20th century.
The Spanish Influence
In the late 1800s, shrewd rancher Henry Hooker took advantage of these violent conflicts and Arizona's growing economy to found the Sierra Bonita Ranch, Arizona's first U.S. cattle ranch.
Hooker named the ranch Sierra Bonita for the beautiful flowers covering the mountains and valleys.  The valleys that surrounded the ranch were the route taken by the Apache to travel between the United States and Mexico.
To protect himself from bandits, Hooker designed and built the main ranch house for his family and ranch workers. The previous Spanish hacienda was destroyed by the Apache but its structure was still there.
The main house is made of adobe, a very common material used in Hispanic constructions. The exterior walls are made of two rows of adobe bricks, following the classical Spanish colonial style, a U-shaped building that wraps around a central courtyard enclosed by a wall.
The Importance of Sierra Bonita
The Sierra Bonita ranch was a meeting place where government officials, scientists, authors, artists, and military men and women enjoyed its hospitality. The ranch also supplied beef to Army posts, mining camps, and Indian agencies. Because it was on the site of a destroyed Spanish hacienda, its architectural and cultural significance added it to the National Historic Landmark in 1964 and the National Register of Historic Places in 1966.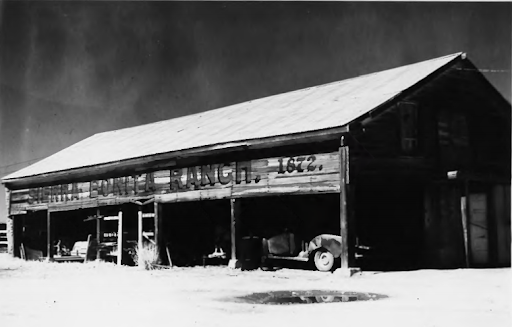 Fun Facts:
Henry Hooker's descendants still occupy his ancestor's adobe house.

Sierra Bonita Ranch is located in the spring-fed Sulphur Valley between the Galiuro and Pinaleño Mountains, which are part of the Coronado National Forest.

Actor Charlton Heston played the character of Hooker in the film Tombstone.
Location: Graham Country, Arizona
Address:  Sulphur Springs Valley
 Google 360-view: Take a stroll through it by clicking here.
https://nuestrostories.com/wp-content/uploads/2022/04/saac-Vallenilla-Nuestro-Stories-Writer-Image-218×300.png