Cassandro, King of the Exoticos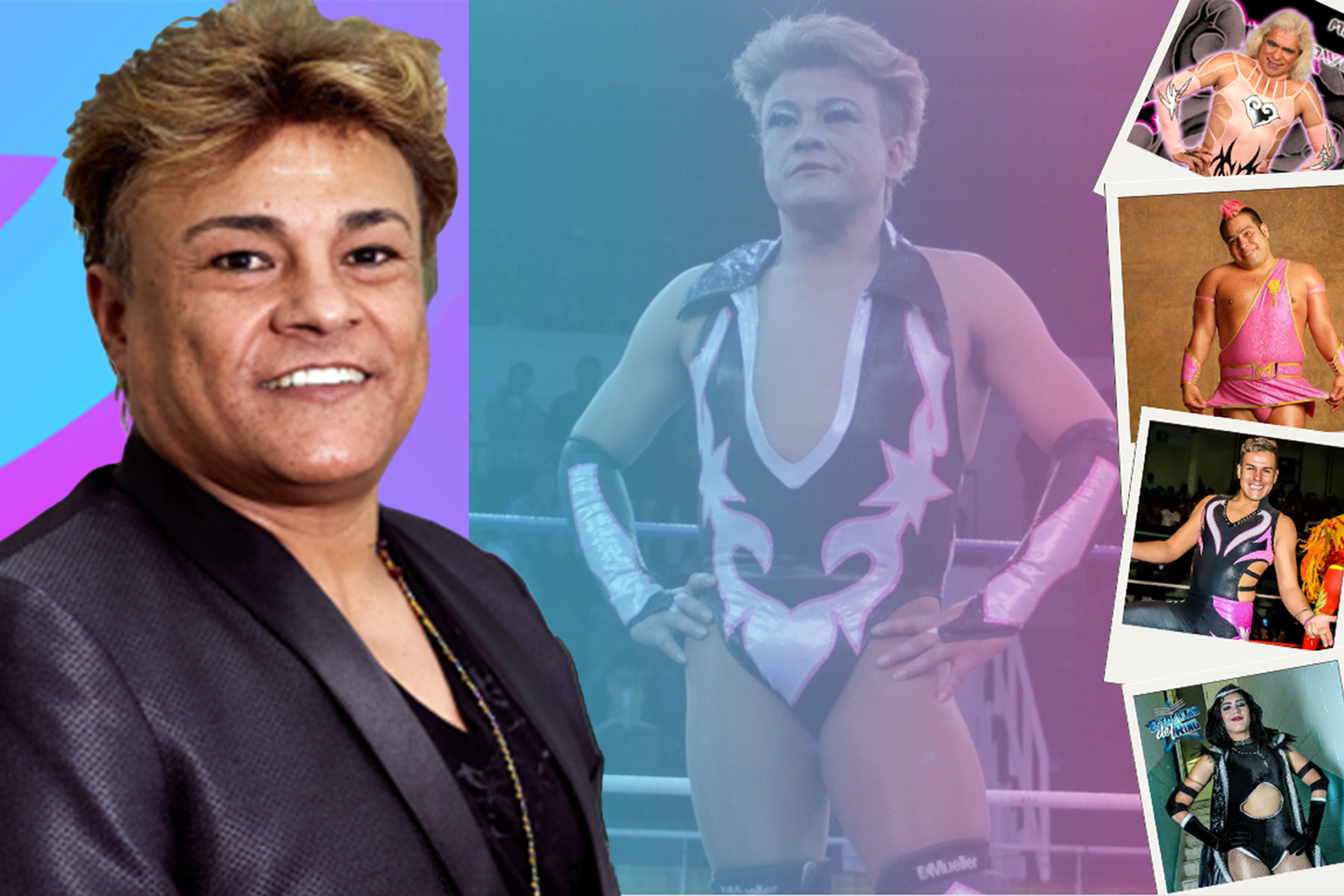 Credit: Festival Ambulante/Illustration by Nuestro Stories
You may have heard about the movie Cassandro because it stars award winning actor Gael Garcia Bernal (as the openly gay amateur wrestler) and Benito Antonio Martinez Ocasio (the singer, songwriter and pro WWE wrestler known as Bad Bunny). So perhaps it's time to take a step back and get to know the world of Lucha Libre, more specifically the "exotico" wrestlers.
Much as the name implies, exotico wrestlers are exotic with their outrageous feminine personas and over-the-top costumes. Their killer technical wrestling prowess makes for a wonderful, and oftentimes, hilarious spectacle. 
 The "exotico" wrestler originated in Mexico, but has expanded to countries like the United States and Japan. 
They started making their appearances all the way back to the 1940s and 50s. Exoticos, as they're called, were (and still are) the drag queens of wrestling. Rudy Ruvalcaba, Sergio El Hermoso, Gardenia Davis and El Bello Greco were some of the most popular ones that dawned this less than conventional feminine look and created the foundation for the next generation of Exoticos (and Exoticas) as we know them today. 
However, it wasn't until the late 1980's that the exotico wrestler persona would come to full fruition with the first openly gay exotico wrestler, Saúl Armendáriz, better known as Cassandro – who has become quite possibly the most famous exotico wrestler ever.  
The following is a list of top exóticos of all time, according to the Mexican newspaper El Universal:
Cassandro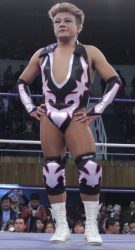 Source: luchawiki.org
Saul Armendariz, better known as Cassandro, was the first openly gay wrestler and most notably, the first exotico to have his life portrayed on the big screen. 
With his signature moves such as Liplock (a big kiss to in the mouth his opponents), Top Rope Wheelbarrow Victory Roll. "La Diva de Juarez" has made a name for himself by giving his all in the ring against legendary wrestlers like El Hijo del Santo, Villano IV, and Villano V to name a few. 
May Flowers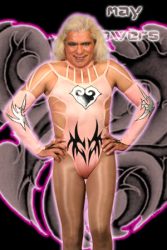 Source: luchawiki.org
May Flowers, whose real name is Florencio Díaz Bolaños, and started his wrestling career in March of 1987, has held several wrestling titles. He decided to combine wrestling with trans culture, and eventually gained the love of his fans, making him a top figure in the Exotico world.
Pimpinela Escarlata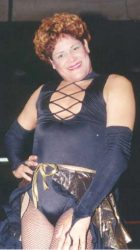 Source: luchawiki.org
Mario González Lozano, known as "La Primera Dama de la Lucha," and "La Pimpi," is known for his agility in the ring, and by blowing kisses to his opponents. But don't let that fool you. He's held plenty of titles with his technical lucha style. He was even suspended at one point for wrestling with a mask as Super Parka for other organizations.
Polvo de Estrellas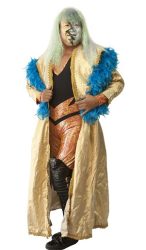 Source: luchawiki.org
Fidel Alvarado comes from a family of wrestlers, has been part of several organizations and was originally a masked wrestler, until he lost his mask twice in different wrestling companies. With multiple signature moves, this exotico can take you out with a dropkick, a frankensteiner off the top rope or a diving knee drop. He is currently suffering from health issues, but still remains a fan favorite. 
Maximo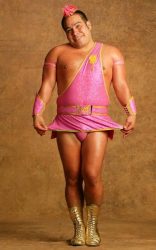 Source: luchawiki.org
Jose Christian Alvarado Ruiz has performed for Consejo Mundial de Lucha Libre, as well as Triple A, Mexico's most popular Wrestling franchises. One of his signature moves is the flying butt-bump. Although known as an Exotico, Maximo is actually a heterosexual.
Dulce Gardenia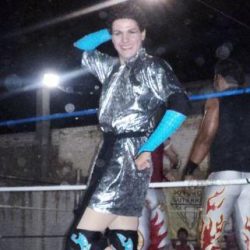 Source: luchawiki.org
Ever since his debut in 2012, Javier Márquez Gómez has become a fan favorite in the CMDLL, and it's not by mere coincidence. His mentors are some of the toughest in the squared arena. Maximo has been trained by Águila Roja, Cóndor de Oro, Gran Markus, Halcón Suriano, Kaín, and Último Guerrero – all making him a well skilled fighter.
Estrella Divina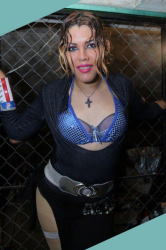 Source: luchawiki.org
Brandon Fernandez, also known as Estrella Divina, is the first trangender woman in Mexican Wrestling. Divina has performed for wrestling organizations like Triple A, but is currently working as an independent. Originally a Masked wrestler, Estrella lost the mask to none other than fellow exótico Polvo de Estrellas.
Mamba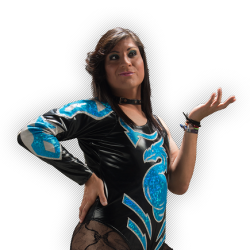 Source: luchawiki.org
La Mamba, who's real name is Federico Vera, has also held several titles (XMW Junior Heavyweight Championship, IWP Championship, EMW World Middleweight Championship). Curiously enough, Mamba was also a masked wrestler that lost the mask to Polvo de estrellas! Make no mistake, Mamba with or without the mask can be fierce in the ring, and his opponents fret at the thought of being hit by his signature move "The Michinoku driver," a move made popular by Japanese Wrestler Taka Michinoku, better known in Mexico as Dr. Wagner's Wagner Driver.
Bugambilia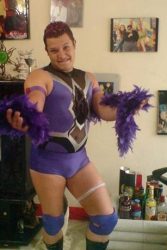 Source: luchawiki.org
Juan Carlos Reyes Silva or "Bugambilia," started with his character as a replacement for a wrestler that didn't make it to the arena that day. From there, he started working on his story line and started making a name for himself as an exotico. Currently he is one of the most representative faces of the "exotico movement," even without the flashy costumes or the makeup.
Share This Story!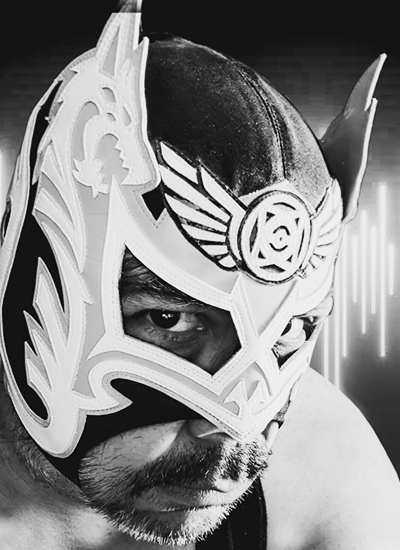 Whenever he is not in the ring, the studio, creating audio and videos, or howling at the moon, he spends his time writing articles and scoping taco stands and coffee shops.