Photos by Nickolas Muray/Cory Weaver, SFO. Illustration by Nuestro Stories
The passionate and tumultuous love story of Mexican artists Frida Kahlo and Diego Rivera has captivated the world for over eight decades. Today, an operatic artistic endeavor offers us a fresh perspective on their legendary romance. Their lives after death.
Introducing "El Último Sueño de Frida y Diego" ("The Last Dream of Frida and Diego"), a Spanish-language opera.
The masterminds behind this operatic gem are the talented duo of Latin Grammy-winning composer Gabriela Lena Frank, a Berkeley native with Peruvian roots, and Nilo Cruz, a Pulitzer Prize-winning playwright whose Cuban heritage has shaped his artistic vision. Co-authored by Frank and Cruz, this two-hour opera reimagines the Kahlo-Rivera love story in a unique and unprecedented way: by exploring their afterlife during the annual Mexican holiday Day of the Dead.
" … Kahlo's life and work have inspired films, books, dance and Robert Xavier Rodríguez's musical theater-tinged opera "Frida" (1991) — but Frank and Cruz determined from the outset to take a novel approach to it," the New York Times explained in a piece about the opera. "Instead of dramatizing Kahlo's physical and emotional torments and her notoriously tempestuous relationship with Rivera realistically, they embed these biographical details in the mythic context of a Day of the Dead ritual."
Rather than portraying the couple at the height of their creative careers during the 1930s and '40s, "El Último Sueño" takes us to the year 1957, three years after Kahlo's passing and in the final hours of Rivera's life. As Rivera's life ebbs away, he summons Catrina, the guardian of souls, and implores her to retrieve Frida's spirit from the underworld, guiding him safely to his final resting place.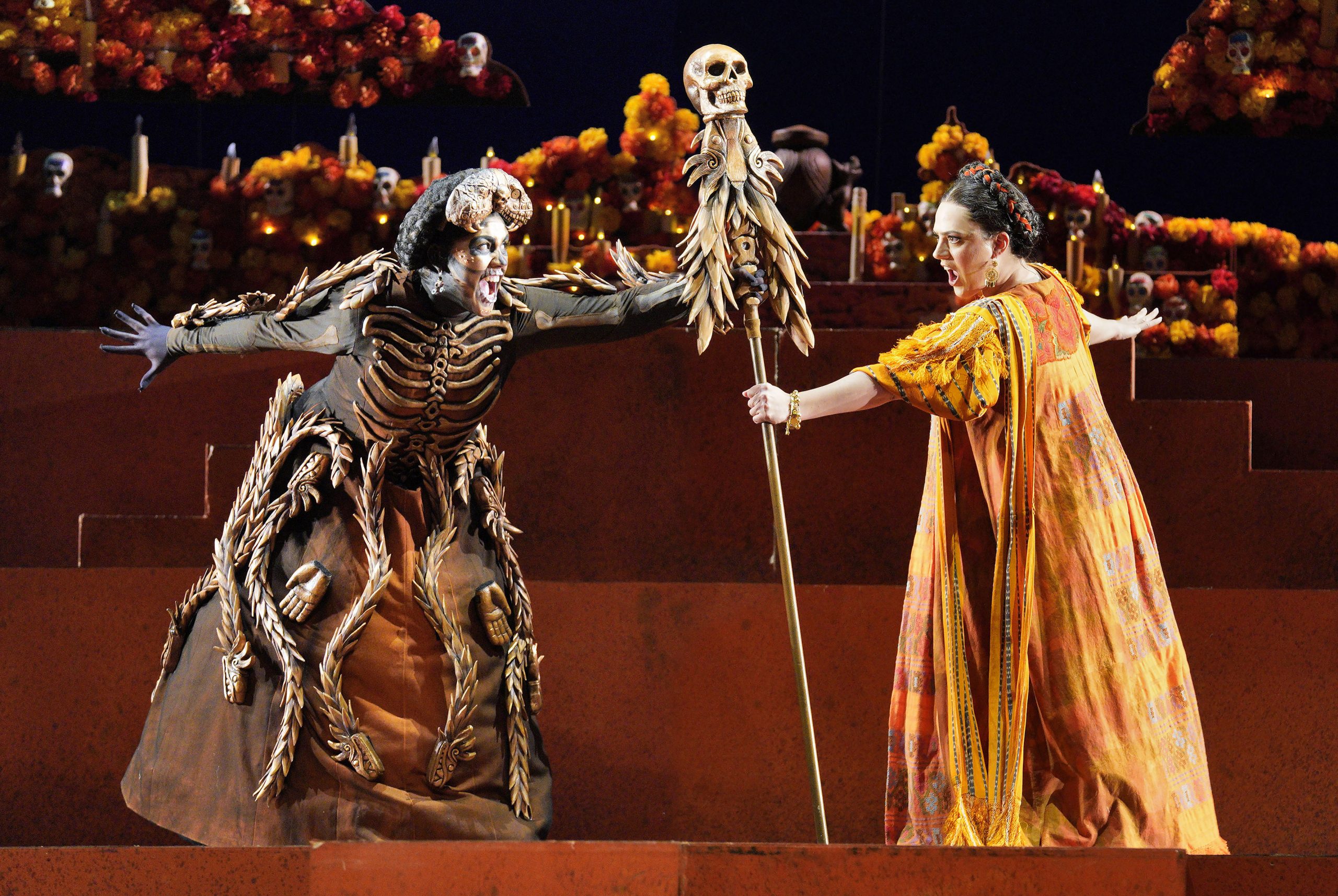 Daniela Mack (right) as Frida Kahlo in a scene from "El último sueño de Frida y Diego" at San Francisco Opera (with Yaritza Véliz as Catrina, Keeper of the Dead), by Cory Weaver, SFO.
"Frida Kahlo has been a hero since my girlhood," Frank told the San Diego Union-Tribune. "Before I could read, I found her in the pages of an art book in my mother's home library, the only woman in a multi-volume set of 'great artists.' My mother pointed out how Frida was small, brown and creative like us; moreover, of thick brow, disabled and a daughter of both Europe and Latin America like me. Images in her paintings danced in my dreams for years."
So, Frida embarks on a journey traversing the boundaries between the underworld and the realm of the living for a single allotted day. Her mission: to guide Diego, who faces the inevitable embrace of mortality, back with her.
In the opera, access to the living world is governed by Catrina, a cunning and mischievous figure. But Catrina isn't just a gatekeeper; she's also the conduit for the humor and irony in Cruz's poetic and magic realism-infused narrative.

As Cruz told the New York Times: "What I love about that idea is that we go into a mythic landscape that is bigger than life," he said. "I think those are the brushstrokes that an opera needs."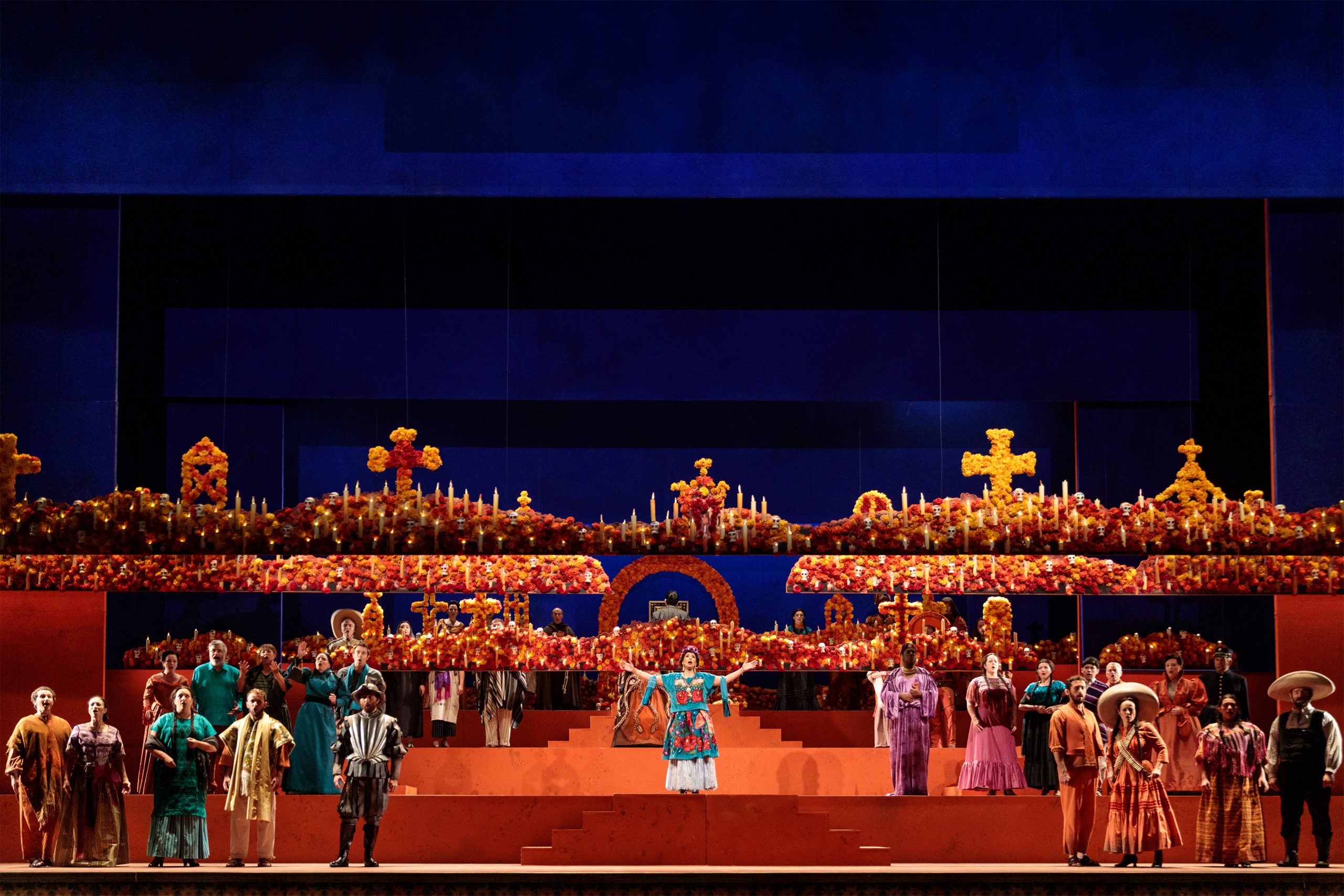 Scene from the 2022 world premiere of ""El Último Sueño de Frida y Diego" at San Diego Opera, by Karli Cadel, San Diego Opera.

The collaborative journey of "El Último Sueño de Frida y Diego" began as an idea that Frank and Cruz first hatched in 2008. Funding was slow and difficult, but the opera finally opened to rave reviews over a decade later.
"Fifteen years in the making, the new opera is a stunner, gorgeously produced, lovingly performed," PeoplesWorld.org wrote.
El Último Sueño, made its world premiere at the San Diego Opera last fall, and is currently in Los Angeles, at the Los Angeles Opera. The current international cast includes Daniela Mack as Frida Kahlo, Alfredo Daza as Diego Rivera, and Ana Maria Martinez as Catrina.