Your Content Goes Here
Image courtesy of Nuestro Stories.
Located in downtown San Antonio, the Centro de Artes museum is a modern hub of arts, history, and culture with the primary focus of telling the stories of the Latino experience on American soil. It has a specific lens pointed to the Southwest.
The impact of Latinos/Indigenous on the Southwest is, of course, undeniable. Before borders were drawn and there became a separation between Mexico and the United States, there were tribes spread along the pueblos of what is now known as America. The Centro de Artes takes care to preserve that legacy by focusing on both the history of the area, as well as the present, and the future of the region and the arts created within it.
Centro de Artes creates a space where our community's voice is heard
Closed for nearly two years after COVID-19, the museum reopened in early 2022 with an exhibition in combination with the NYFA (New York Foundation for the Arts) Immigrant Artist Mentoring Program Exhibition. An organization that coupled immigrant artists/first-generation artists with experienced artists in order to mentor and develop the stories they were attempting to tell through their chosen medium. That exhibit recently closed, and in its place, two exhibits took its place.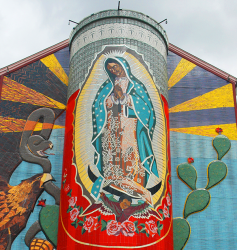 Currently open for the next month, the two-pronged exhibit features one floor dedicated to the immigrant experience that is often centralized around the blood, sweat, and tears often put into the work they do in order to survive in America entitled "La Visa Negra" by artist Leila Hernandez. Another floor is dedicated to an exhibition dedicated to the Indigenous dancers who carry cultural traditions in their movements, entitled "The Euphoric Dance of the Unconquered Mind."
The Centro de Artes museum is always free and open to the public.
Read more: Barrio Duranguito, the Latino Neighborhood That Resists Destruction
Plan your visit
Location: San Antonio, TX 78207
Address: 101 S Santa Rosa Ave
Virtually enjoy it here.
https://nuestrostories.com/wp-content/uploads/2022/06/Liv-182×250.jpeg
By Liv Styler
Olivia Monahan Chicana journalist, editor, educator, and organizer in Sacramento whose sole focus is to shed light on stories on our most impacted and marginalized communities, but even more importantly, for those stories to humanize those normally left out. She is an Ida B Wells Investigative Journalism Fellow 2022 Finalist, a member of the Parenting Journalists Society, and has bylines in The Courier, The Sacramento Bee, The Americano, Submerge Magazine among others.